a DAO building the ultimate dApps ecosystem
The ecosystem will be powered by the Utility Token $TEAK which is minted only through staking
This is "Kangal", The Anatolian Shepherd Dog
Kangals defend herds from wolfs and bears for centuries.
Kangal is available on Ethereum, BSC and Polygon mainnet.
Available Markets
Kangal Ecosystem
Kangal Ecosystem
KANGAL is the governance token of the Kangal ecosystem
KANGAL is a fixed supply token — there will never be more than 100 billion tokens in circulation. KANGAL holders are the stakeholders of the Kangal DAO and can create and vote on proposals that shape up the future of the project.
Stake for $TEAK
The only source of supply for $TEAK will be staking Kangal and Kangal LPs.
Enter the ecosystem and use dApps with $TEAK
All dApps will be powered by $TEAK. Some of these will burn $TEAK, some of them will generate a profit.
The DAO will make the last decision on the configurations and the use of profits.
Roadmap
Genesis
Fair Launch with 10-year liquidity lock, no team tokens
Going cross-chain (ETH & BCS)
Governance v0.1 (Forum & Snapshot spaces)
Donation Wallet creation
Mid Term
Hotbit Listing
First PR & Marketing Agreements
Coinsbit Listing
Rebranding
Utility Token proposals & deployment
KANGAL staking
Polygon bridge
Kangal ecosystem release with first dApps and NFT drops
Official KANGAL merchandise
Long Term
dApp Ecosystem Expansion: Lottery and Games
dApp Ecosystem Expansion: NFT minting
dApp Ecosystem Expansion: NFT marketplace
Higher-tier exchange listing
Turning dApp ecosystem into a dAppStore
Marketing agreements for wider audiences
On-chain governance
Kangal is a community owned DAO, so feel free to speak up! More roadmap items will be created by you via forum discussions & proposals.
Tokenomics
Starting pool on Uniswap with 100% supply & all locked with Unicrypt
MAX SUPPLY
100,000,000,000
FAIR LAUNCH
No team tokens
Kangal DAO stakeholders are able to discuss ideas on any aspect of the project and initiate new proposals on the community forum. Voting on proposals takes place on our snapshot spaces, available for both ETH and BSC side.
[Proposal] Utility Token Name
The vote for the Utility Token name is near. Below is the list of the options, we excluded the ones that are already being used by other projects. $HEPHERD $GUARDIAN $BIGBITE $PAWHUG $TEAK $LPGG (Loyal Protective Gentle Guardian(s)) $KLEAD $NACK / $SNACK $TREATS $BARK $FLOCK. We will create the proposals on snapshot spaces next and voting will start on April 29th, 10 PM GMT and will end on May 2nd, 10 PM GMT.
DATE
Apr 29, 2021 - May 2, 2021
STATUS
Concluded
SNAPSHOTS
[Proposal] New Logo
Our designers were working hard on our logo and here are the options! The vote will start on April 23rd and end on the 26th. As always, the votes will be tallied up from both chains and the results will be announced immediately after voting finishes.
DATE
Apr 23, 2021 - Apr 26, 2021
STATUS
Concluded
SNAPSHOTS
Community
Join us to be a part of a growing community
Meme Twist
The DAO, dApps and DeFi are all great, but you know what's better? Adding a little bit of spice. Working hard while having fun is the key, and that's what we do at Kangal. ✌️
Memes archive
Market prices for Crypto Assets can change unpredictably in a very short time. Due to the content of Crypto Assets, you can earn profit as a result of your transactions, while you also bear risk of loss. Regarding Crypto Assets, there are risks of cyber-attack, theft, various security breaches, restriction of access to the market, electronic or technological failures, termination of the network program, and loss of value of crypto assets. Therefore, before you decide to trade, you should understand the risks you may face in the cryptocurrency market and make your decision by considering your financial situation and limitations.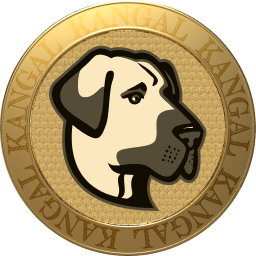 In remembrance of our first logo